My Blog
Posts for tag: orthodontics
By William H. Panico DMD
June 21, 2015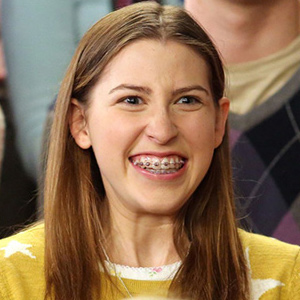 Fans of the primetime TV show The Middle were delighted to see that high school senior Sue, played by Eden Sher, finally got her braces off at the start of Season 6. But since this popular sitcom wouldn't be complete without some slapstick comedy, this happy event is not without its trials and tribulations: The episode ends with Sue's whole family diving into a dumpster in search of the teen's lost retainer. Sue finds it in the garbage and immediately pops it in her mouth. But wait — it doesn't fit, it's not even hers!
If you think this scenario is far-fetched, guess again. OK, maybe the part about Sue not washing the retainer upon reclaiming it was just a gag (literally and figuratively), but lost retainers are all too common. Unfortunately, they're also expensive to replace — so they need to be handled with care. What's the best way to do that? Retainers should be brushed daily with a soft toothbrush and liquid soap (dish soap works well), and then placed immediately back in your mouth or into the case that came with the retainer. When you are eating a meal at a restaurant, do not wrap your retainer in a napkin and leave it on the table — this is a great way to lose it! Instead, take the case with you, and keep the retainer in it while you're eating. When you get home, brush your teeth and then put the retainer back in your mouth.
If you do lose your retainer though, let us know right away. Retention is the last step of your orthodontic treatment, and it's extremely important. You've worked hard to get a beautiful smile, and no one wants to see that effort wasted. Yet if you neglect to wear your retainer as instructed, your teeth are likely to shift out of position. Why does this happen?
As you've seen firsthand, teeth aren't rigidly fixed in the jaw — they can be moved in response to light and continuous force. That's what orthodontic appliances do: apply the right amount of force in a carefully controlled manner. But there are other forces at work on your teeth that can move them in less predictable ways. For example, normal biting and chewing can, over time, cause your teeth to shift position. To get teeth to stay where they've been moved orthodontically, new bone needs to form around them and anchor them where they are. That will happen over time, but only if they are held in place with a retainer. That's why it is so important to wear yours as directed — and notify us immediately if it gets lost.
And if ever you do have to dig your retainer out of a dumpster… be sure to wash it before putting in in your mouth!
If you would like more information on retainers, please contact us or schedule an appointment for a consultation. You can learn more in the Dear Doctor magazine articles "The Importance of Orthodontic Retainers" and "Why Orthodontic Retainers?"
By William H. Panico DMD
February 11, 2015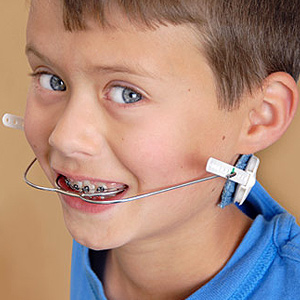 Most of us are quite familiar with what traditional braces look like. But occasionally we see more complex-looking devices being worn by young orthodontic patients: thicker wires that extend outside the mouth, with straps that may go behind the neck or over the chin. What are these devices, and why are they sometimes needed?
In general, orthodontic appliances with external parts braced by the head, neck or chin are referred to as "headgear." These devices may be used to handle a number of particular orthodontic situations, but they all have one thing in common: They provide the additional anchorage needed to move teeth into better positions.
It may come as a surprise that teeth, which seem so solid, can actually be moved fairly easily over time. This is because teeth are not fixed directly into bone, but are instead held in place by a hammock-like structure called the periodontal ligament. Using a light, controlled force — such as the force of springy wires and elastics in traditional braces — teeth can be moved slowly through the jaw bone, like a stick being pulled through sand.
Of course, to pull a stick through sand, you need a firm anchorage — your legs, for example, bracing against a rock. Most of the time, the back teeth, with their large, multiple roots, provide plenty of support. But sometimes, the back teeth alone aren't enough to do the job.
If a very large space between teeth is being closed, for example, the back teeth might be pulled forward as the front teeth are pulled back; this could result in poor alignment and bite problems. In other cases, the front teeth may need to be pulled forward instead of back. The back teeth can't help here; this is a job for headgear.
Some types of headgear have a strap that goes behind the head or neck; they use the entire head as an anchorage. Other types, called "reverse pull" headgear, have a strap that comes over the chin or the forehead; they can pull teeth forward. Headgear can even influence the proper growth of facial structures — that's why it is usually seen on preteens, whose growth isn't yet complete.
Headgear is usually worn for 12 hours per day, for a limited period of time. In some cases, rather than headgear, appliances called "temporary anchorage devices" (TADS) may be recommended. These are tiny screws that are implanted into the jawbone in a minimally invasive procedure, and serve a similar function.
While it may not look pretty, orthodontic headgear is capable of moving teeth into their proper positions in a relatively short period of time — and ending up with a great-looking smile is what orthodontics is all about.
If you have questions about orthodontic headgear, please call our office to schedule a consultation. You can read more in the Dear Doctor magazine article "Moving Teeth With Orthodontics."