My Blog
Posts for: February, 2015
By William H. Panico DMD
February 26, 2015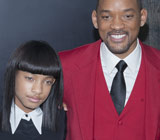 Her parents Will and Jada are Hollywood royalty, who helped her land her first acting role when she was 7. She released a hit single, "Whip My Hair," before she had quite reached the age of 10; shortly afterward, she was signed to a record label. Yet the young singer and actress Willow Smith has at least one thing in common with plenty of 'tweens and teens across America: She needed to wear braces to correct problems with the alignment of her teeth.
Why do braces seem to be a part of growing up for so many kids? One answer is because they work so well. Braces apply gentle pressure to the teeth through a thin, flexible wire called an archwire. Attached to the teeth with a metal or ceramic bracket, the archwire exerts a light force which causes teeth to gradually move into better positions. Sometimes, when additional force is needed, elastic bands or other appliances may be used in conjunction with braces.
Most everyone is familiar with the silvery metal "tracks" of traditional braces. But did you know that there are a number of other options too? For a more inconspicuous look, you may be able to have braces with tooth-colored ceramic brackets; then, only the thin archwire will be visible in your mouth. It's even possible in some cases to place the metal wires and brackets on the tongue side of the teeth. With this system, called lingual braces, the orthodontic hardware is truly invisible.
What if you didn't need metal braces at all? Some people can get good results using a system of clear plastic aligners instead of braces. The aligners are worn 23 hours a day, but can be taken off for cleaning and for important events. They work best for correcting mild or moderate alignment problems.
Still, plenty of people feel that if they're going to wear braces, they might as well flaunt them. That's why some types of braces are available with bands that come in different colors. When Willow's brother Jayden wore braces, he was reported to favor red and black ones. Jayden, who is about two years older than his sister, had his braces removed just before Willow got hers put on.
So if it turns out that you need braces, remember that lots of your favorite celebrities wore them too. And keep in mind that, depending on your own situation, you may have several options to choose from.
If you would like more information about braces or orthodontic treatment, please contact us or schedule an appointment for a consultation. You can learn more by reading the Dear Doctor magazine articles "The Magic of Orthodontics" and "Orthodontics for the Older Adult."
By William H. Panico DMD
February 11, 2015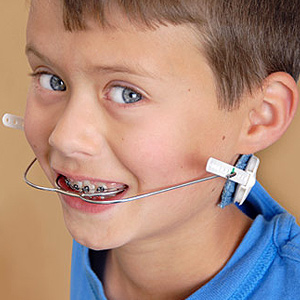 Most of us are quite familiar with what traditional braces look like. But occasionally we see more complex-looking devices being worn by young orthodontic patients: thicker wires that extend outside the mouth, with straps that may go behind the neck or over the chin. What are these devices, and why are they sometimes needed?
In general, orthodontic appliances with external parts braced by the head, neck or chin are referred to as "headgear." These devices may be used to handle a number of particular orthodontic situations, but they all have one thing in common: They provide the additional anchorage needed to move teeth into better positions.
It may come as a surprise that teeth, which seem so solid, can actually be moved fairly easily over time. This is because teeth are not fixed directly into bone, but are instead held in place by a hammock-like structure called the periodontal ligament. Using a light, controlled force — such as the force of springy wires and elastics in traditional braces — teeth can be moved slowly through the jaw bone, like a stick being pulled through sand.
Of course, to pull a stick through sand, you need a firm anchorage — your legs, for example, bracing against a rock. Most of the time, the back teeth, with their large, multiple roots, provide plenty of support. But sometimes, the back teeth alone aren't enough to do the job.
If a very large space between teeth is being closed, for example, the back teeth might be pulled forward as the front teeth are pulled back; this could result in poor alignment and bite problems. In other cases, the front teeth may need to be pulled forward instead of back. The back teeth can't help here; this is a job for headgear.
Some types of headgear have a strap that goes behind the head or neck; they use the entire head as an anchorage. Other types, called "reverse pull" headgear, have a strap that comes over the chin or the forehead; they can pull teeth forward. Headgear can even influence the proper growth of facial structures — that's why it is usually seen on preteens, whose growth isn't yet complete.
Headgear is usually worn for 12 hours per day, for a limited period of time. In some cases, rather than headgear, appliances called "temporary anchorage devices" (TADS) may be recommended. These are tiny screws that are implanted into the jawbone in a minimally invasive procedure, and serve a similar function.
While it may not look pretty, orthodontic headgear is capable of moving teeth into their proper positions in a relatively short period of time — and ending up with a great-looking smile is what orthodontics is all about.
If you have questions about orthodontic headgear, please call our office to schedule a consultation. You can read more in the Dear Doctor magazine article "Moving Teeth With Orthodontics."