My Blog
Posts for tag: cosmetic dentistry
By Dr. William H. Panico
May 16, 2017
If you dream about a smile makeover which turns your dull, damaged or imperfect teeth into a beautiful, straight, white smile, your dream
could become a reality. Thanks to their design and versatility, dental veneers are the perfect cosmetic dentistry procedure to take your smile to the next level. Find out more about dental veneers and how they can improve your smile with Dr. William Panico at Whitecaps Dental in Rio Grande, NJ.
What can dental veneers do for me?
Dental veneers cover the surface of the tooth, allowing them to repair almost any cosmetic abnormality. Some of the most common uses for dental veneers include improving the appearance of:
chipped teeth
teeth cracked above the gum line
misshapen teeth
yellowed teeth
discolored teeth
uneven or jagged teeth
Though dental veneers cannot eliminate the need for significant orthodontic treatment to straighten the teeth and correct the bite, veneers can correct slight misalignments like small overlaps or gaps in the teeth.
What can I expect during the procedure for dental veneers?
Your veneers process should take place within about two dental appointments. Your dentist does not physically create the veneer. Instead, a dental laboratory designs and customizes each veneer for you. Since the process takes about two weeks, your dentist will schedule an appointment before and afterward.
During the first appointment, you can expect your dentist to prepare the teeth by removing small layers of enamel from their surfaces, then take an impression of your mouth. The impression, sent to the dental laboratory, aids in the design and creation process of the veneers. Your dentist may place temporary veneers to protect your prepared teeth during the two week wait time. Your second appointment will consist of your dentist fitting each finalized veneer to your tooth to ensure the most natural look, then permanently bonding the veneers to your teeth. Your dentist will then polish the veneers and you can begin enjoying your new, improved smile.
Dental Veneers in Rio Grande, NJ
If you think you could benefit from dental veneers, you can find out more about the procedure and determine if it is the best treatment option for you during a consultation with your dentist. For more information on dental veneers, please contact Dr. William Panico at Whitecaps Dental in Rio Grande, NJ. Call (609) 886-2277 to schedule your appointment with Dr. Panico today!
By William H. Panico DMD
September 12, 2015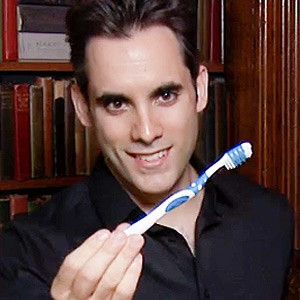 Magician Michel Grandinetti can levitate a 500-pound motorcycle, melt into a 7-foot-tall wall of solid steel, and make borrowed rings vanish and reappear baked inside bread. Yet the master illusionist admits to being in awe of the magic that dentists perform when it comes to transforming smiles. In fact, he told an interviewer that it's "way more important magic than walking through a steel wall because you're affecting people's health… people's confidence, and you're really allowing people to… feel good about themselves."
Michael speaks from experience. As a teenager, his own smile was enhanced through orthodontic treatment. Considering the career path he chose for himself — performing for multitudes both live and on TV — he calls wearing an orthodontic device (braces) to align his crooked teeth "life-changing." He relies on his welcoming, slightly mischievous smile to welcome audiences and make the initial human connection.
A beautiful smile is definitely an asset regardless of whether you're performing for thousands, passing another individual on a sidewalk or even, research suggests, interviewing for a job. Like Michael, however, some of us need a little help creating ours. If something about your teeth or gums is making you self-conscious and preventing you from smiling as broadly as you could be, we have plenty of solutions up our sleeve. Some of the most popular include:
Tooth Whitening. Professional whitening in the dental office achieves faster results than doing it yourself at home, but either approach can noticeably brighten your smile.
Bonding. A tooth-colored composite resin can be bonded to a tooth to replace missing tooth structure, such a chip.
Veneers. This is a hard, thin shell of tooth-colored material bonded to the front surface of a tooth to change its color, shape, size and/or length; mask dental imperfections like stains, cracks, or chips, and compensating for excessive gum tissue.
Crowns. Sometimes too much of a tooth is lost due to decay or trauma to support a veneer. Instead, capping it with a natural-looking porcelain crown can achieve the same types of improvements. A crown covers the entire tooth replacing more of its natural structure than a veneer does.
If you would like more information about ways in which you can transform your smile, please contact us or schedule an appointment for a consultation. You can also learn more about the techniques mentioned above by reading the Dear Doctor magazine articles "Teeth Whitening," "Repairing Chipped Teeth," and "Porcelain Crowns & Veneers."