My Blog
Posts for tag: oral health
By William H. Panico DMD
April 22, 2015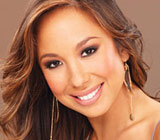 Growing up with a dentist stepdad, Cheryl Burke of Dancing with the Stars heard a lot over the years about the importance of good oral hygiene — in particular, the benefits of using dental floss.
"My dad would say, 'make sure you floss,' but I never really listened to him. I was very, very stubborn," Cheryl told Dear Doctor magazine recently in an exclusive interview. Cheryl admits this stubbornness took its toll, in the form of tooth decay. "I definitely had my share of cavities," Cheryl recalled.
Cavities can form when food particles, particularly sugar and carbohydrates, are not effectively cleaned from the spaces between teeth. These particles are then broken down by bacteria naturally present in the mouth, resulting in the production of acids that attack the tooth enamel.
When she reached her twenties, Cheryl decided she really needed to step up her oral hygiene and cultivate an asset so important to a professional dancer: a beautiful smile. And once she did, cavities became a distant memory.
"I think when you do floss frequently, it helps to reduce the chances of getting cavities," Cheryl said. "It took me a while to figure it out." Now Cheryl flosses after every meal. "I carry floss with me wherever I go. I have no shame busting out my floss in the middle of a restaurant!" She declared.
Dental decay is actually a worldwide epidemic, especially among kids. Untreated, it can lead to pain, tooth loss, and, because it is an infectious disease, it may even have more serious systemic (whole body) health consequences. The good thing is that it is entirely preventable through good oral hygiene at home and regular professional cleanings here at the office.
If it has been a while since you or your children have seen us for a cleaning and check-up, or you just want to learn more about preventing tooth decay, please contact us to schedule an appointment for a consultation. If you would like to read Dear Doctor's entire interview with Cheryl Burke, please see "Cheryl Burke." Dear Doctor also has more on "Tooth Decay: The World's Oldest & Most Widespread Disease."
By William H. Panico DMD
April 07, 2015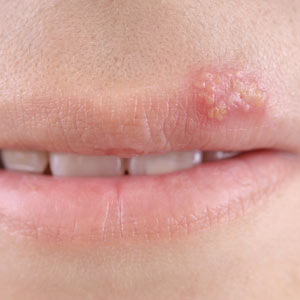 Although normally benign, a cold sore outbreak can be irritating and embarrassing. Understanding why they occur is the first step to minimizing outbreaks.
The typical cold sore (also known as a fever blister) is caused by the Herpes Simplex Virus (HSV) Type I, medically known as "Herpes Labialis" because it occurs on or around the lips. This virus is not to be confused with HSV Type II, which causes a genital infection. Unlike most viruses, HSV Type I can cause a recurring sore outbreak in certain people. Most viruses tend to occur only once because the body produces anti-bodies to prevent further attack; it's believed HSV Type I, however, can shield itself from these defenses by hiding in the body's nerve roots.
These cold sore outbreaks often occur during periods of high stress, overexposure to sunlight or injuries to the lip. Initially you may have an itch or slight burning around the mouth that escalates into more severe itching, redness, swelling and blistering. The sores will break out for about a week to ten days and then scab over and eventually heal (unless they become infected, in which case the healing process may go longer). You're contagious between the first symptoms and healing, and so can spread the virus to other people.
In recent years, anti-viral prescription medications have been developed that can effectively prevent HSV outbreaks, or at least reduce the healing time after an occurrence. The most common of these are acyclovir and valcyclovir, proven effective with only a few possible mild side effects. They can be taken routinely by people with recurring cold sores to suppress regular outbreaks.
While HSV Type I cold sores are more an aggravation than a health danger, it's still important for you to see us initially for an examination if you encounter an outbreak. It's possible for a more serious condition to masquerade as a cold sore or blister. A visit to us may also get you on the right track to reducing the frequency of outbreaks, as well as minimizing discomfort when they do occur.
If you would like more information on the treatment of cold sores, please contact us or schedule an appointment for a consultation. You can also learn more about this topic by reading the Dear Doctor magazine article "Cold Sores."